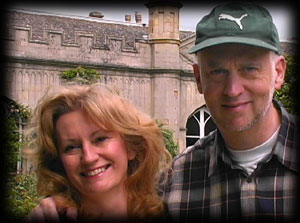 Who creates this weird stuff?
I grew up on the west coast USA, have two lovely children, four precious grandchildren and assorted other cherished family members.

Nearly 10 years ago I decided to take a walking holiday on my own to England. I lived there years ago, my daughter was born there and I was determined to go back and explore at my leisure. It seemed the perfect time.
You never know where that next move might take you

I met a nice Englishman a few months before taking the trip and we became good friends. When I finally made it over Rob showed me the places he knew I'd like to see. Magical places steeped in history and legend, many reputedly haunted.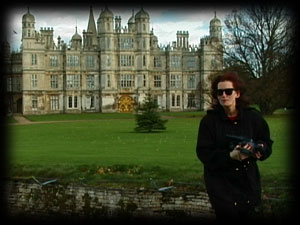 Burghley House, Stamford in Lincolnshire, UK
On our London trip we paid a visit to the London Dungeon, it's a definite must for fans of England's gory history.

During another trip we visited the Tower of London, plenty of ghosts and history to satisfy anyone. Here are a few of the photos we captured during that awesome outing.
The whole experience was extraordinary and I found Rob so gracious and fun to be with.
By the next spring Rob had lined up a perfect two week adventure in Cornwall, he even prepared a notebook of various haunted locations and places of myth and legend such as Tintagel Castle, the legendary birthplace of King Arthur (see some of our pictures).
<<a href="http://www.heartlandproductions.com/tintagel/tintagel.html" target="_blank">
We stayed at the Wellington Hotel in the harbour village of Boscastle in one of the rooms reputed to be haunted by a woman in white. I'm not going to say at this point if we saw anything - we did film and it was definitely eerie. We also came away with an intriguing interview with the hotel's proprietor.
We then toured the Museum of Witchcraft which is the most extensive in the world - and interviewed the owner Graham King who's an authority on witchcraft and those who practice it in Cornwall.
* * *
In September 2000 Rob and I happily married and settled in England, travelling back and forth to the States to see my family and bringing them here whenever possible.
In 2003, unable to resist the magical pull of Cornwall we moved there permanently.

With our combined experience in various areas of multimedia we started up Heartland Productions, a video production and duplication company in Cornwall and now serve corporate clients as well as the general public.
We enjoy filming for our clients (see some client video clips) and for ourselves and with fabulous locations right on our doorstep we steal away in the evenings and weekends with our little dog Jack to explore, film and photograph the nooks and crannies and dark places around this enchanted land.

As mentioned on the Story page, I've been creating and selling one-of-a-kind clay miniatures, jewellery and dolls since 1975 in America and beyond. (Originals by LE) It's probably something I will always do and have enjoyed bringing the ghost orphans to half/life through clay and cloth. They're the most marvellous and interesting characters I've ever created because they are so real and a part of me. I hope you enjoy them as well.