Somewhere in the wild sea off the southwest coast of England lies a realm woven of un-earthly magic.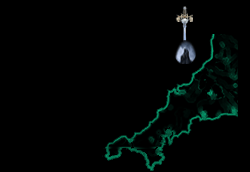 A mountain island hidden in shadow. You cannot see it and you cannot go there unless you've been invited or lured or captured, as many hapless souls have been.
It is the realm of Ravensbreath Island.
And atop the island's highest peak, drenched in continual rain, sits the foreboding ruin of Ravensbreath Castle, a crumbling stone fortress haunted by ghosts - the ghosts of nine orphan children who are lost, forgotten and tragically fading away.
Read about the children, get to know them. On this site are the ghost dolls they make in their image.
The stories of the orphans are under pen now.

They will haunt you forever.