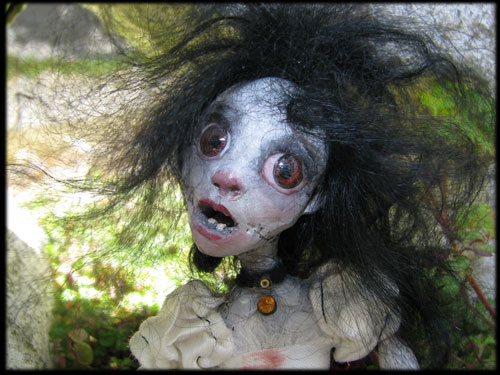 Cantankerous and pushy is Annabel Lee.
Her life, when alive, was influenced by a gypsy existence with her family, always on the move, doing as they pleased when they pleased.
She was especially close to and very much like her mother and losing her to an illness at such a young age left an empty and angry hole in her heart. A hole that shaped her character from then on.
If you want to know what sort of nonsense I have to put up with every day then watch this film. We performed it with our ghost dolls, of course.
You will also hear a word about us from a scary man called Mr Oood. He gives me goosebumps all over.
If you like our film or just want to say hello then please write to us in our ghostbook guestbook or Facebook and we shall reply as soon as possible. Sincerely, Annabel Lee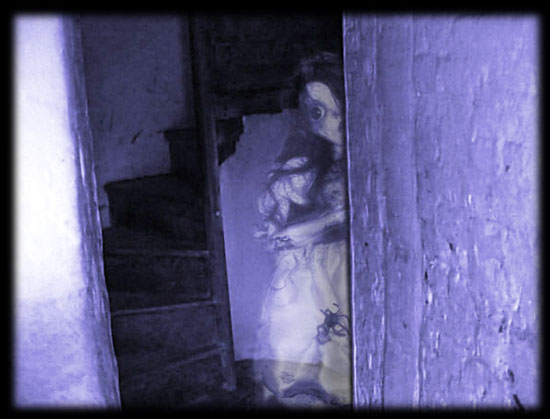 Moody and obstinate, alive and dead, Annabel Lee became a girl the others tried to avoid.
One person understood the sad girl beneath the hard shell, her brother Percy.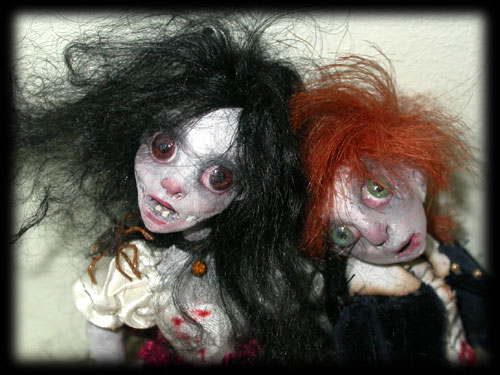 click the photo or here to see more of Annabel Lee with brother Percy
Annabel spent much of her time alone, hanging from the chandelier in the Great Hall or some other ludicrous pastime.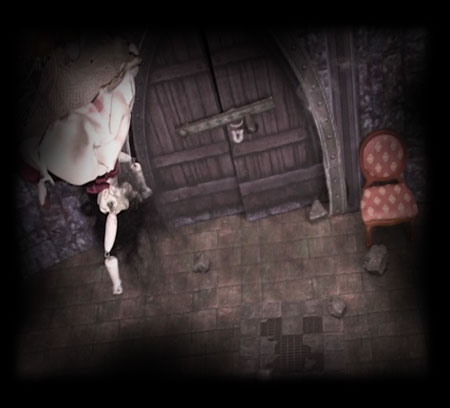 Two centuries in the mysterious castle had its share of frantic moments but a lot of the time there wasn't much to do. She professed to prefer being on her own, except when phantoms scuffled out of the dark, crunching and snapping the bones of some poor creature, as they often did in that strange place, then she wished for company.
Sometimes she'd coax Percy to join her and he would hang alongside for a short while, out of pity for his sister, but would quickly be gone at the first sign of movement or the tiniest crunch in the dark.

Annabel wouldn't admit her regret at having no friends.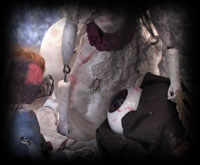 Of course it didn't help her popularity that whenever she'd drag out her magic eyeball something awful would happen, such as the eye singeing someone's clothes. All the ghost children wore burnt clothes thanks to Annabel Lee and her evil eye. With an air of indifference she would say it was only a silly accident but no one believed it.
And yet it was partly true, Annabel did not have full control over the Ogre's eyeball because it acted on her feelings and if she was under stress it would fire off when she least expected it.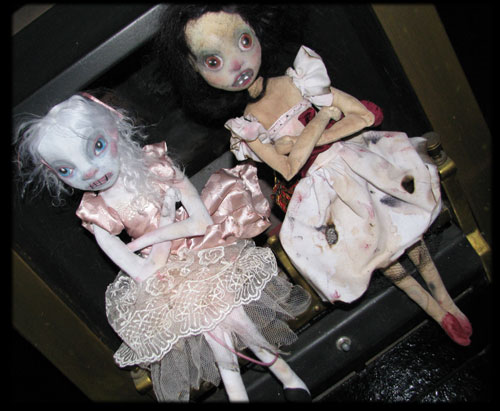 The worst accident was the transformation of princess Gweena Madalaine into a white rat. Annabel regarded Gweena as a rat anyway because of the cruel things she often said about Annabel's family. Then one day, while the eye happened to be aimed in Gweena's direction, she made a particularly nasty remark about Annabel's mother and the eye suddenly fired a bolt so fast and bright everyone had to turn away. When they looked back Gweena had been horribly transformed. If you've seen Ratgirl then you'll know the result.
A long time after that incident, when Annabel would see Ratgirl wandering the castle, lips sewn together with embroidery floss, pink tail dragging slowly across the moldy cobblestone floor, she'd feel a slight pang of guilt.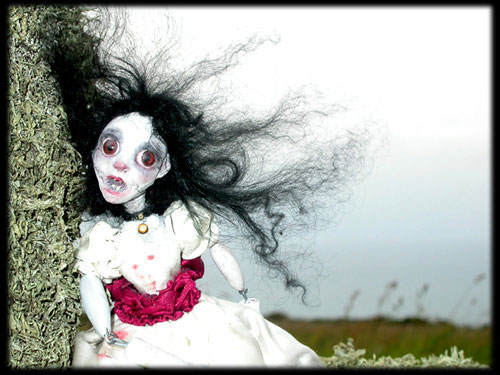 And then there were her dreams. Sometimes when the children were together for a meal of dead beetles and rats Annabel would stand up and begin telling the group about one of her nightmares. Ratgirl would predictably interrupt and muffle through stitched lips, after a quick look around for the Ogre's eyeball, that as usual Annabel Lee was making up stories from her twisted imagination just to get attention. Also predictably both ghost girls would start scratching and screaming at each other until someone bravely stopped them.
Patch could never understand why anyone would want to feud over the same topic for two hundred years and wondered if this was the normal way of girls?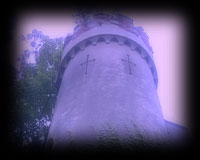 Have you watched Annabel's crazy bogey monster nightmare (movie)?

Although some parts were crazy, much was very true to the world she lived in.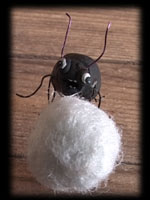 For instance, sometimes she'd meet charming characters like the singing stinkbug, although to her nothing in that place was charming and everything was a nuisance. Creatures of all sorts were common in the ghost orphan's world.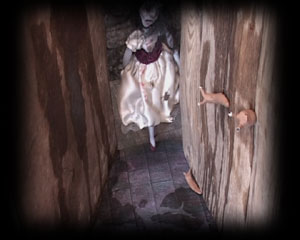 A shortcut in the dungeon through the Valley of Slugs was something they all had to do sometimes, but Annabel hated that too.
Little Molly didn't mind though, she enjoyed playing down there in the slime, as long as ghouls weren't using the Valley for one of their rituals.

slugs! ugh!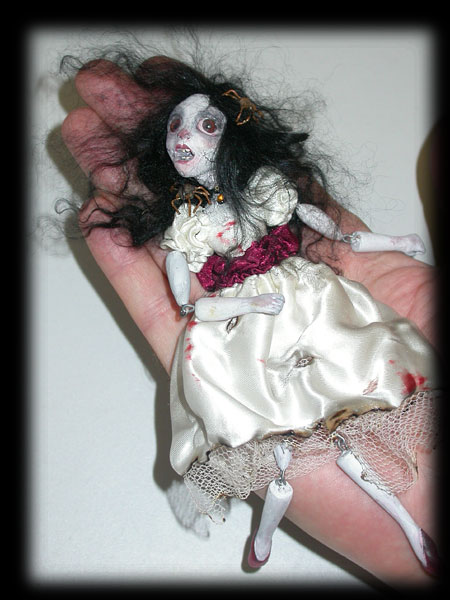 Sometimes Annabel had that same dream and this time she, Molly, Tinker, Baby and Toby were little dolls and their castle had been stolen by a hideous monster.


The world of the spirit children was a topsy-turvy one indeed.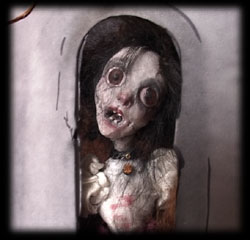 A very hazy line separated Annabel Lee's nightmares from the world they really shared in Ravensbreath Castle.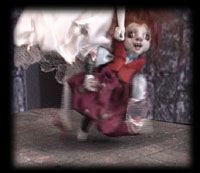 But sadly that world would come to an end if something didn't keep them from fading for good.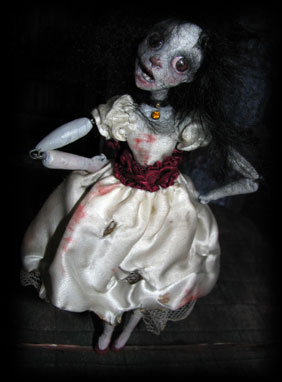 There is much more to Annabel's story and will be revealed in the ghost orphan's book.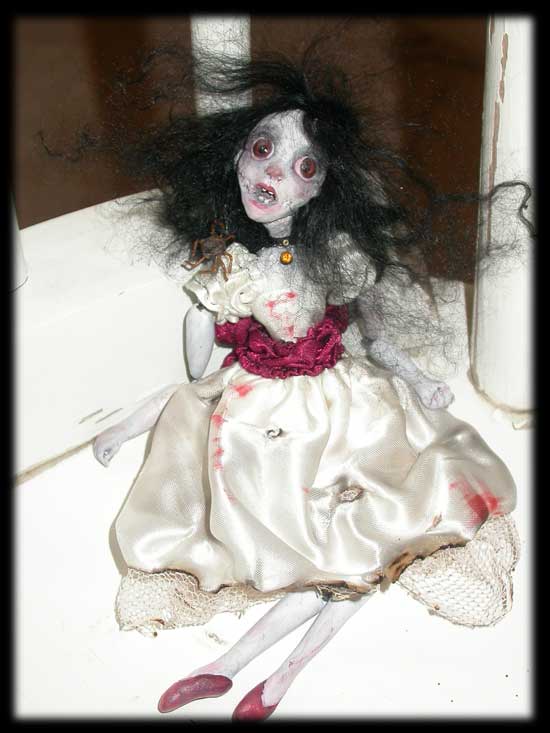 Annabel Lee will haunt you forever