Most distressing for the children is the truth that they are deteriorating, and after 200 years lost and forgotten in their hidden world they are tragically nearing their end. They must find a way out of their prison asylum before they disappear like raindrops in the sun, extinguished forever as if they never existed at all.

The Living help slow their demise by writing to the children in their Ghostbook guestbook and they'll write back because they found a way to do it.
Click the slateboard below and say hello. You know that when you connect with the children they will haunt you.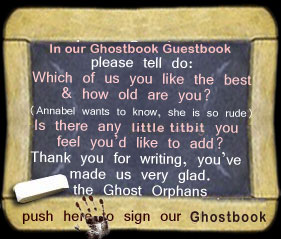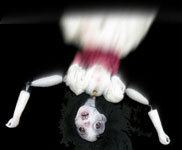 The Ghost Children's Musical
(song from Sweeney Todd)
And a word from the scary man, Mr Oood
Twins Toby and Tinker try to warn Annabel Lee to be wary of the company she keeps, for demons and monsters lurk in the shadows of Ravensbreath Island.

Annabel's Nightmare ~ The Bogey Monster of Ravensbreath Castle ~