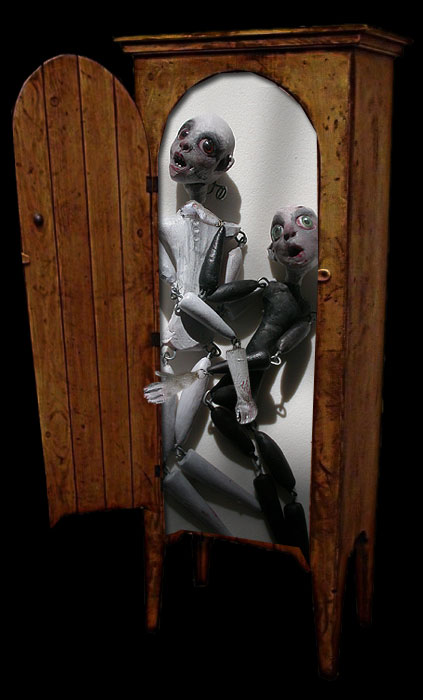 The information here doesn't talk of the dolls the ghost children themselves create, which are on their ghost dolls page. Those precious poppets are made from old bits of cloth and stuffing, whatever they can scrape together in Ravensbreath Castle.
(Shhh...what you are about to learn the children don't remember so keep it just between us okay? This page tells how the ghost children were first conceived and made into little dolls by the author back in 2006).
Since then they have taken on a 'life' of their own and hover in a state somewhere between real and unreal which many of you know who have visited their ghostbook guest book.
On this page the author will tell you how and when they first came into our world. Do read on....
When first writing the characters of the ghost orphans for the Ravensbreath Island scarytale stories four years ago, I had no preconceived notion of who they were or how they would look.

Then one day, out of the blue the two faces above popped into my mind, first Annabel Lee then brother Percy. Creepy! Although they were meant to be characters in the story, no more than that, Annabel insisted on becoming something other that just words on a page so with clay and wire in hand I went to work, per her instruction and design. What she has become is exactly what she dictated to me.

Annabel was pleased to have the run of Ravensbreath Castle to herself (Percy was usually off reading with Boris his beetle). It was I who felt there must be other children hiding around there and I was correct, though much to Annabel Lee's irritation. One by one the others emerged from hiding and became who they are in my hands. Molly, Boo, Patch, Toby, Tinker and Baby told me what they looked like, who they were and I followed their lead. It seemed like magic and it was. That's what they're all about.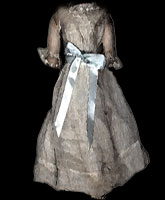 The children in doll form have been used to represent their story character in pictures and even a little film as in the case of Annabel's nightmare, The Bogey Monster of Ravensbreath Castle. They had become a little more real.
I hope you like them too. They would be pleased to hear from you.
You know they will haunt you forever.